VASJ hosts annual Christmas on Campus event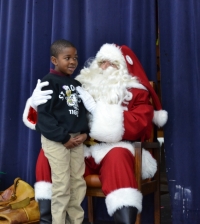 Villa Angela-St. Joseph High School welcomed 82 local first-grade students on Tuesday, Dec. 10 for the school's annual Christmas on Campus event.
The children enjoyed a variety of holiday-themed activities, including cookie decorating, ornament making, Christmas games and a "snowball" fight. The first-grade students, who came from Our Lady of the Lake, St. Jerome, St. John Nottingham Lutheran and St. Aloysius, also got to take photos with Santa Claus.
Christmas on Campus is a long-standing tradition at VASJ. During the event, VASJ seniors are paired with a first-grade "buddy."
"I felt like I provided structure and confidence for the kids. I loved running the craft room!" said VASJ senior Sarah Carroll.
This year's event was made extra special thanks to the generous support of students, parents and alumni who donated Christmas stockings filled with small toys, candy, hats and mittens, and school supplies. Each VASJ senior was able to select a Christmas stocking to give to his or her buddy.
"I believe my service made a difference by putting a smile on the kids' faces, especially when they got their stockings," said VASJ senior Deonte Warren.
VASJ senior Henry Spear added, "My kid had a great time. He kept saying he wished he was in my family, which was sweet. … It was nice to see how grateful he was when getting a stocking."
Thank you to the VASJ Campus Ministry department for coordinating this year's event!
Read More on VASJ
Volume 12, Issue 1, Posted 5:13 PM, 01.12.2020