Hospice of the Western Reserve Earns Highest Level In National Veteran-Centered Care Program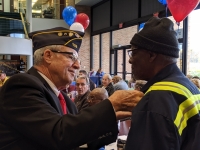 Hospice of the Western Reserve (HWR), headquartered in Collinwood, has been named a Level 5 Partner with We Honor Veterans (WHV), a program of the National Hospice and Palliative Care Organization (NHPCO) in collaboration with the Department of Veterans Affairs (VA). Level 5 is the highest level WHV partners can attain and includes several required activities and yearly recertification. We Honor Veterans was launched in 2010 to address the growing need for veteran-centered care, especially as veterans are aging and need access to palliative and hospice care.
As a partner in the program, Hospice of the Western Reserve provides specialized care to veterans facing a life-limiting illness through its Peaceful & Proud program. Last year, HWR provided care for more than 1,400 veterans and their families. Level 5 partners place a greater emphasis on paid and volunteer staff education and caring for Vietnam era and combat veterans and serve as mentors to other hospice programs.
At HWR, a continuing education program for paid and volunteer staff providing direct care incorporates webinars, videos and presentations from the VA and Veterans Service Commissions focusing on issues such as trauma informed care, PTSD, moral injury, suicide prevention, soul injury and self-awareness.
A specialized program at HWR focuses on Vietnam era veterans, who have distinctive needs shaped by the unique cultural and political climate and social experiences of the era.
"Through a series of meetings and interviews, Vietnam veterans shared personal insights with us. These learnings are helping us develop a custom program of care for Vietnam veterans and their family caregivers," said provider relations manager Nate Gradisher, who chairs the nonprofit agency's Veterans Committee. "Hospice of the Western Reserve is also a partner in the commemoration of the 50th anniversary of the Vietnam War, a Department of Defense program that honors Vietnam veterans and their families."
Gradisher said volunteers play a meaningful role in the agency's Peaceful & Proud program. Through a veteran-to-veteran volunteer initiative, hospice patients are matched with volunteers who can relate to them as fellow service members. Sixty-seven veteran volunteers provide companionship, family caregiver support, assistance with legacy work and vigil support in the final hours. They also participate in Veterans Recognition Ceremonies honoring fellow veterans. Last year, more than 1,000 veterans were recognized, ranging from private ceremonies for hospice patients and their families to large public recognition events honoring veterans in the community.
"When we set out to create the Level 5 program, we knew that it had to be different to truly showcase the efforts needed to go above and beyond. Not only have you demonstrated your commitment, but you have helped shape the program and have continued as an example of what all hospice partners should strive to be," said NHPCO President & CEO Edo Banach. Learn more at WeHonorVeterans.org and Peaceful & Proud.
Laurie Henrichsen
Public and Media Relations Manager
Read More on Community
Volume 12, Issue 2, Posted 5:31 PM, 02.05.2020