Adopt-A-Flower-Bed on E. 185th St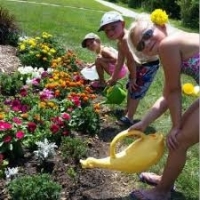 BEST Community Resource Center is searching for public involvement in the enhancement of the E. 185th St community. The Adopt-a-Flowerbed program is a volunteer-based activity where area volunteer groups "adopt" and maintain designated flowerbeds on E. 185th St. Kick off for Adopt-A-Flower-Bed is on Earth Day, Wednesday, April 22, 2020
What is Adopt-A-Flower-Bed?
Adopt-A-Flower-Bed is a volunteer activity where volunteer groups "adopt" a flower bed on East 185th St. The adoptive group is responsible for planting and maintaining the bed during the spring, summer, and fall.
We provide all the materials you need.
BEST Community Resource Center provides all planting materials and tools. Volunteer groups need to provide energy, time and enthusiasm. This is an ideal service project for all ages, children through seniors!
Program Guidelines
The flowerbed or planter should be adopted for one complete growing season (tentatively April through September)
Adopters may either be an individual or a group, however groups must identify one person to be the contact with the Parks and Recreation liaison
Planting is restricted to only those areas identified by Parks and Recreation as Adopt-a-Flowerbed locations
Sign up is on a first come, first served basis
Volunteer Responsibilities
Remove and dispose of litter and weeds
Notify Best Community Resource Center of problems or concerns
Visit the site frequently to ensure good health of plant material (suggested bi-weekly)
If applicable, maintain adequate signage of plant or display boards
Install mulch provided by the BEST Community Resource Center when needed
Plant Flowers
Get Involved
If you would like additional information or to have a representative come and speak to your group, please email best848@yahoo.com or call Kimberly Smith at 216.326.7437.
Kimberly Smith
Kimberly Smith, is the CEO of BEST Community Resource Center she is dedicated to making an impact in the community.
Read More on Community
Volume 12, Issue 3, Posted 5:26 PM, 03.09.2020