Bonnie Gordon (March 16th, 1959 - January 30th, 2020)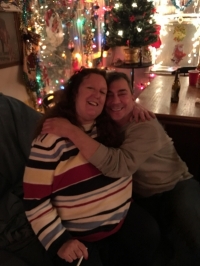 What does one say about Bonnie Gordon. She was a big chunk of Cleveland. Since moving to Collinwood, we've met a cast of characters, and I mean that in the best sense of the word. People who really care about their friends and neighbors. Bon was a promotor and activist in her own way for the betterment of the neighborhood and community at large. Irish and born on the cusp of St Patrick's Day, believing that it was merely an extension of her own birthday celebration. Bonster was an ole hippie chick, rock band roadie, and die hard Brown's fan all rolled up into one Zig-Zag.
Her favorite pastime was just sitting out back at Beulah taking in the sunset off the lake in all it's variations with her companion/caretaker Jamie, and her beloved golden retriever Charlie Dog, aka "Lassie". Bon, you are truly missed by your family and friends.
William McCulloch
Amateur local historian
Read More on
Volume 12, Issue 3, Posted 5:26 PM, 03.09.2020