Big Clean 2020 Postponed; Social Distancing Clean-Ups Encouraged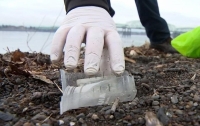 To prevent the spread of coronavirus (COVID-19), the Big Clean originally scheduled for Saturday, April 25th will be postponed.
We are following directives from Ohio Governor Mike DeWine, the Ohio Department of Public Health and the CDC. We are working to identify a new date in the Fall for this popular annual event, so please stay tuned!
In the meantime, there are actions you can take as an individual to remain a good steward of our environment.
Next time you walk the dog or venture to a local park for some fresh air, grab a trash bag and gloves and pick up any litter along the way. Be vigilant in washing your hands before and after!
Conserve water and other utilities at home. The CDC recommends increasing air circulation by opening outside doors and windows while disinfecting, which may also reduce your dependency on heat, air conditioning and artificial lighting.
The Earth Day Network recently announced plans for a virtual Earth Day to celebrate the 50th anniversary. While in-person celebrations will be postponed to Fall 2020, a global digital mobilization is planned for April 22nd, 2020.
Follow #EarthDay2020 and #EARTHRISE on social media to be part of the global conversation and Earth Day Network (@earthdaynetwork) to watch live coverage of the digital event.
All Cleveland Plogs meetings and events are postponed. Please check out our Facebook page for updates. Thank you for being supportive of our group!
Allison Lukacsy-Love
Allison is a North Shore Collinwood resident, architect, artist, neighborhood cheerleader and frequent contributor to the Collinwood Observer. She curates "Phone Gallery", founded "Bus Stop Moves", "Give Box Cleveland" and upcycles street and beach trash into art.
Read More on Green Collinwood
Volume 12, Issue 4, Posted 4:36 PM, 04.01.2020