Continue the Dream gala postponed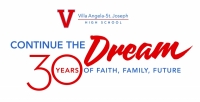 Villa Angela-St. Joseph High School, in cooperation with the Catholic Diocese of Cleveland, is closely monitoring updates on COVID-19.
The health and safety of our community members and supporters is our top priority. As such, Villa Angela-St. Joseph High School's Continue the Dream gala scheduled for Saturday, May 16 has been postponed. The event will be rescheduled for a date later in the year. We will communicate when a new date has been identified.
We greatly appreciate the support of the gala thus far. Please join us in praying for the health and safety of all our community members during this time.
Read More on VASJ
Volume 12, Issue 4, Posted 4:36 PM, 04.01.2020