Cleveland Plogs socially distant in May!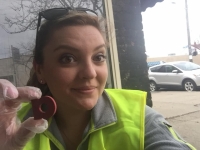 Hey neighbors!
Out of an abundance of caution, Cleveland Plogs will not meet for our group plogging in May. However, if there's one lesson quarantine has taught us, its that getting out in the fresh air for walks and runs is necessary for our mental and physical health. So all this month, just add a grocery bag or bucket to pick up litter during your next walk or run around Collinwood and go solo plogging! Like Cleveland Plogs on Facebook - facebook.com/cleplogs and post a selfie of yourself solo plogging on facebook or instagram with the hashtag #cleplogsolo. All photos will then be entered into a contest to win a $15 Six Shooter gift card! Cleveland Plogs will draw the winning selfie on May 31st. May the best solo plogger win!
*Please plog responsibly. Wear protective gloves when picking up litter and bring along hand sanitizer. Please wash your hands with soap and water at least 20 seconds when you are done. If you are plogging in a more crowded area, please consider wearing a mask or form of personal protective equipment.
Need a plogging refresher? Plogging is a fitness and litter cleanup craze from Sweden that is quickly spreading throughout the world and right here in Collinwood. Plogging involves a combination of jogging and picking up trash along your running route using a small bag to collect the litter you find along your route. Plogging is great exercise and a great opportunity to meet new people and make a positive impact on our environment and our neighborhood! Check out - City Lab - Pick Up Trash While You Exercise. It's Called Plogging https://goo.gl/xRFVRc
Looking ahead, we hope to resume group plogging cleanups in June. Group plogging events will take place the last Wednesday of the month through October starting at 6pm throughout Collinwood. You can check out our 2020 calendar and meet up locations below or on facebook.
Cleveland Plogs 2020 Schedule (tentative): June through October the last Wednesdsay of the month
June 24th - Waterloo/E 156th - Meet at the Waterloo Tower 15600 Waterloo Rd.
(Thursday) July 30th - Special edition plogging in partnership with Clean Up Drink Up along East 185th Street. Meeting location TBD
August 26th - Lakeshore Blvd. - Meet at the Collinwood Rec Center 813 East 152nd.
September 30th - East 152nd - Meet outside Five Points Community Center - 14002 Lakeshore Blvd.
October 28th - Waterloo - Halloween Themed Plogging! - Meet at the Waterloo Tower 15600 Waterloo Rd.

Stephen Love
Stephen Love is a Lake Erie fanatic from Cleveland, OH. In his day job he works for the Cuyahoga Land Bank and in every other waking moment is the founder and coordinator of Euclid Beach Adopt-a-Beach Team and Euclid Beach Blast! He started Euclid Beach Blast out of a desire to explore the connections between environmental stewardship, art, public spaces, music, and community.
Read More on Green Collinwood
Volume 12, Issue 5, Posted 5:54 PM, 05.07.2020