Misrach Ewunetie '20 selected as Bank of America Student Leader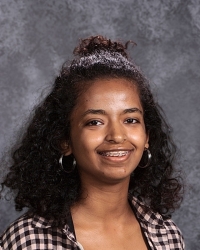 Bank of America announced that the four Cleveland high school juniors and seniors selected as Student Leaders (#BofAStudentLeaders) have started their paid summer internship experience of leadership, civic engagement and workforce skills-building.
In light of the health concerns that remain in local communities, the program has been adapted to a virtual format, through which students will have the opportunity to participate in sessions that will expose them to the vital role that nonprofits play in advancing community health, the importance of public private partnerships to advance social change and a focus on building financial acumen.
The Class of 2020 Cleveland-based Bank of America Student Leaders are:
• Misrach Ewunetie, Villa Angela-St. Joseph High School
• Russell Krofta III, Saint Martin de Porres High School
• Diamond Boyd, Glenville High School
• Chukwuemeka Chukwekere, Cleveland School of Science & Medicine
"Now more than ever, as we collectively navigate the challenges we face in our communities, we remain committed to supporting youth and young adults of all backgrounds by connecting them to jobs, skills-building and leadership development," said Jeneen Marziani, Ohio market president, Bank of America. "Creating opportunities for our youth to gain skills and build a network is a powerful investment in the future of our community."
Cleveland Student Leaders will participate in programming that leverages Bank of America's national partnerships and expertise and will work closely with the bank's Ohio leadership and nonprofit partners. They will participate in a collaborative, mentoring-focused project working closely with the Greater Cleveland Foodbank on a project focused on diversity, inclusion and equity. In addition, Student Leaders will engage in conversations focused on social justice, civil rights and how to build a more diverse and inclusive society, and have the opportunity to gain a better understanding of their personal finances through Better Money Habits®, Bank of America's financial wellness and education platform.
This summer, Bank of America is connecting approximately 3,000 young adults to summer jobs through partnerships with nonprofits and local mayors and its own Student Leaders® program.
Read More on VASJ
Volume 12, Issue 8, Posted 6:19 PM, 08.10.2020