VASJ Alumni: Get to Know Lisa Urankar '84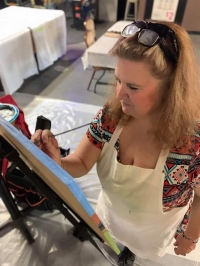 Since graduating from Villa Angela Academy in 1984, Lisa Urankar went on to Lakeland Community College and earned an Associates Degree in Business, specializing in Graphic Design. After college, she worked as a graphic designer creating page layouts and ads for local newspapers and as a production artist and quality assurance professional in screen printing for the apparel industry. Over the past twenty years, Lisa has concentrated on making a living as an artist and enjoys sharing what she's learned through the years with others. Lisa instructs art at various senior centers in the Cleveland area and offers paint events for private parties, corporate events, churches and other gatherings. She has been a member of many art associations, including the Euclid Art Association, the Creative Art Association and the Colored Pencil Society of America and has received many honors and awards. In 2018, some of her artwork was featured in the Lake County Dream House for their silver anniversary. More recently, Lisa has joined Stella's Art Gallery in downtown Willoughby where she offers art classes and visitors can purchase her artwork. You can find Lisa Urankar on Facebook at FINE ART BY LISA URANKAR where she posts updated class information, art shows, paint events and finished art commissions. She especially loves painting pet portraits!
Where did you grow up while attending Villa Angela Academy?
I grew up in Euclid off of East 260th Street. My family moved there when I was seven years old. I can still remember the first day arriving in our new home and meeting the neighbor kids (Tom, Mike, Amy and Heather) from across the street. We became fast friends and played outside until the street lights came on. We all got along so well whether we were playing tag, football, riding skateboards and bikes, conquering forts or building snowmen. I feel so blessed and fortunate to have such fond memories of childhood and still keep in touch with friends from the old neighborhood.
Where did you go to school before Villa Angela Academy?
I went to grade school at St. William in Euclid. My family was active in the parish. Every Sunday at noon Mass, we sat as a family and always in the same pew. I loved sitting next to my father because he had the most angelic voice and after Mass someone would always comment on his singing. My mother was one of the founding ladies to start the school lunch program at St. William. My father made calls for Catholic Charity donations. My brother Ed and I were always involved with school functions, especially CYO activities. I loved and participated in St. William Youth Renewals. The experiences I had on those weekends meant so much to me. On occasion, I still read through the HELP letters I received from family and friends.
Which teacher or class at Villa Angela Academy do you remember most and why?
My favorite class of course was art and my favorite teachers were Sr. Lucia and Sr. Rosaria. It was at VA that started to feed my passion for the Arts! I believe I learned the necessary foundation and skills I needed to become the Artist I am today. I can envision myself descending down that spiral stair case into the classroom ready to create that next masterpiece whether it be in clay, stain glass, drawing or paint. I recently ran into Sr. Rosaria at Ursuline College and am so glad I finally got the chance to express my gratitude for being such a wonderful mentor during my time at VA.
Did you have a favorite spot to hang out and what did you like about it?
My friends and I hung out a lot at the McDonald's across the street from Villa Angela. I also have so many memorable moments and fun times at St. Joe's. Hanging out at weekend dances or attending school plays consumed most of my weekends. However, my favorite was attending donkey basketball events and rooting for whoever could stay on that mule long enough to make a basket!I have to admit, it was the funniest thing I have ever seen!
What, if anything, about your experience at Villa Angela Academy would you do over?
One of my greatest honors at Villa Angela was receiving my class ring. I still wear it today and it symbolizes so many things for me. I feel blessed and appreciate that my parents provided me with such a strong, nurturing upbringing and implementing my education in catholic schools. It definitely made a difference in my life. If I could travel back in time to live those days over again I would hop right in that time machine and set the clock back to the 1980's! Attending another father-daughter breakfast with my dad, enjoying skits at school assemblies, participating in spirit week activities, enjoying lunch with my friends in the cafeteria and attending one more Villa Angela summer festival. Yes, I would do it all over again in a heartbeat!
To participate or nominate someone for a VASJ Alumni: Get to Know column, contact Cheryl Stashinko at alumni@vasj.com
Cheryl Stashinko
Cheryl Stashinko, Associate Director of Alumni Relations at VASJ
Read More on VASJ
Volume 12, Issue 8, Posted 6:19 PM, 08.10.2020