Collinwood Counts! GCDC Editorial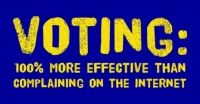 Okay, Collinwood neighbors - It is officially election season!
If a little part of you is open to the idea of voting, this article will be sharing information with you about how to navigate the 2020 election and how to contribute to the process we all cherish.
September 22, 2020 is National Voter Registration Day. First observed in 2012, it is a nonpartisan civic holiday celebrating our democracy. To date, nearly 3 million voters have registered to vote on the holiday. Celebrated the fourth Tuesday of each September, volunteers and organizations from all over the country will "hit the streets" in a single day of coordinated field, technology, and media efforts; working to make sure everyone has the opportunity to vote. (How Cool!)
Monday, October 5 is the deadline to register to vote. You can do this, online, by clicking here. You will need your Ohio driver's licence or Ohio identification card, name, date of birth, address, and the last four digits of your Social Security number. Alternatively, you can register via mail, by printing out a voter registration form, filling it out, and sending it to your local election office.
Vote early! Beginning Tuesday, October 6, early voting begins.
All Ohio residents whose registration is up to date have the option to vote early. This is the preferred method for those looking to avoid the lines at the polls and people who enjoy taking time in researching candidates and issues. (These are also the first votes to be counted on election night!)
To do so, you must request an absentee ballot, fill out the application completely, and submit the request to the Cuyahoga County election office. Upon receiving, follow instructions and drop the absentee ballot off at the Cuyahoga County Board of Elections, located at 2925 Euclid Avenue, Cleveland, Ohio. Alternatively, it can be mailed to the Board of Elections.
Your application must be received by the Board of Elections by 12:00 p.m. on Saturday, October 31.
Your ballot must be received by the Board of Elections by 7:30 p.m. on November 3 if delivered in person, or must be postmarked by the post office by November 2 and received by the Board of Elections no later than 10 days after the election if sent by U.S. Mail.
Finally, election day is November 3!
Read More on
Volume 12, Issue 9, Posted 4:17 PM, 09.03.2020