SJN Goes All Out On In-School Precautions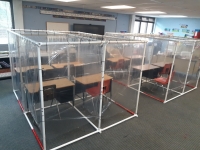 As we get ready for the imminent start of our school year on September 9th, one main concern (beyond our Lord and Savior, of course) is what MORE can we do to maximize the safety of our students and staff. SJN made the decision to offer on-campus instruction this year, and to allow those students who wished to to attend school online. Not with work packets or with remote assignments, but actually attending the same classes as their on-campus peers, receiving the same instruction, and being responsible for the same assignments.

We are doing this by livestreaming our classes using Google Classroom. Students who are attending online get up in the morning at the same time they always did, dress in school dress code, and log in by 8:55 for attendance. From that point forward they are in class, attending school as normal. The only difference is that they are present via their computer rather than physically. The idea is to get the school day as normal as possible, to provide the student with a routine that is familiar, that FEELS like school. That routine, that sense of normalcy is incredibly important to our kids, and we feel that, as a school, we should be trying to get as close as possible to it.
Yes, all of our kids will be wearing masks. Yes, hand sanitizing stations will be everywhere. Yes, we have mapped out all the proper social distancing markers. Yes, we have thought and though and thought and rethought every policy and procedure possible. Yes, we have all of our ducks in a row and all of our contingency plans for almost ANYTHING that might happen in place. We've even arranged it so that for most assignments, no actual physical materials have to change hands either direction.

But what MORE can we be doing?
That question drives us. We made the decision to offer on-campus classes after a lot of prayerful consideration and a lot of communication with our families and the community to find out what they needed from us, so how can we make it as safe as possible?

Which brought us to the cubicle project. The brainchild of our senior pastor, Rev. Dr. Walther Marics, we are constructing, well, cubicles for our classrooms. Made out of PVC piping and plastic, each cubicle provides a safe, secure space where students are protected on all sides from possible exposure. Students will be able to be in the classroom, actively part of the lessons and activities, while still maintaining maximum safety precautions.
This is a trying time for all of us. SJN is here to help. We still have room in our 2nd, 3rd, 4th, 5th, and 6th grades if you are looking for a small, Christ-centered education from a school that cares, a school that listens to you, a school where the needs of the child come first.
David Peck
Principal of St. John Nottingham Lutheran School
Read More on
Volume 12, Issue 9, Posted 4:17 PM, 09.03.2020