Fashion Week Cleveland 2015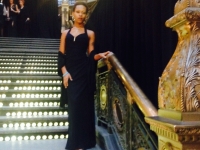 Cleveland has a rich history not only in Rock & Roll, but also in fashion. Fashion Week Cleveland presented a true reflection of that history on March 21, 2015 at The Hyatt Regency in the atrium of the historic arcade. Alexis Nunn, a Collinwood resident and participant of the iMedia Mentoring program, was in attendance at the black tie event as an intern-in-training of Volume Magazine, a Cleveland based digital lifestyle magazine. Darvio Morrow, editor-in-chief of Volume Magazine and a Collinwood resident, was also in attendance.
Fashion Week Cleveland in its 11th year, featured Dayton's own Althea Harper, designer from Project Runway, who was a runner up from the show's 6th season, designer Indashio, from the show, Catwalks Across America, which was seen on Style Network along with 16 year old designer Victoria Cohen, designers DeAndre Crenshaw, Johnathan Dembowski, Christian and Christopher Lett, Cora Mercer, Chikondi Butao Mirlemba, and Bridgette Schriner.
The glitz and glam was there, not only from the designers and models, but from everyone in attendance, making this a highly successful event. The Fashion Week Cleveland had a slew of volunteers and staff, in heels and bow ties making this a memorable event. Fashion Week Cleveland is truly making its presence known in the fashion world.
According to the Founder & CEO of Cleveland's Fashion Week, Donald C. Shingler, "Cleveland is known for its 3M's-music, medicine, and museums. Cleveland's fashion week is a reflection of the city from which it comes. Something that is uniquely Cleveland, reserved, educational, and intelligent". In 2002, Donald Shingler created Cleveland Fashion Show, and by 2005, that fashion show grew to host various fashion related events. Fast forward to 2015, Fashion Week Cleveland is now known as " the educational fashion week".
For more information: www.fashionweekcleveland.com or www.volumemagcle.com
The iMedia Mentoring program is a youth media,arts,technology program, where the participants are taught and mentored by industry professionals. The after school initiative meets at the Collinwood Recreation Center on Wednesdays at 4:30 p.m. For more information contact: Ms. Daniels at 216-331-8857 or icdcorp@gmail.com
Darece Daniels
Collinwood resident and Executive Director of ICDCORP.
Read More on Art News
Volume 7, Issue 4, Posted 8:45 PM, 04.03.2015