Meet The Cast of The Music Man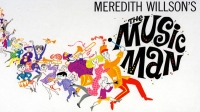 Silhouette Productions 2016 Musical at the Shore Cultural Centre is "The Music Man"
In existence since 1963, Silhouette Productions continues to expand its programs and offerings to the community. We respectfully request that you partner with us in our 2016 Production of "The Music Man" on October 14th, 15th, 21st and 22nd at 7:30 PM and Sunday matinees at 2:00 PM on October 16th and 23rd at The Shore Cultural Centre in Euclid. Advance tickets Adults $14.00 Seniors 60+ $12.00 At the Door Adults $16.00 Seniors 60+ $14.00 A true theatre classic, it is a very popular choice for family and community centered performing arts.
It is our mission to provide excellent musical productions, dramas and comedic plays. In order to meet our mission and provide these services to the Euclid community, we rely on your attendance, advertisement of individuals, institutions and businesses for support. Without the assistance of community-minded individuals just like you, we wouldn't be able to provide top caliber productions year after year.
Your support is very important to the success of this production. We are asking that you promote and attend Silhouette Productions and Shore Cultural Centre's "The Music Man".
Tickets Call 216-219-3630 or 216-289-8578
Music Man Cast List
Steven Schuerger Harold Hill
Meg Martinez Marian Paroo
Ryan Peterson Marcellus Washburn
Jim Ray Mayor Shinn
Beth O. Cubbison Eulalie Mackecknie Shinn
Erica Roberts Zaneeta Shinn
Ellie St. Cyr Mrs. Paroo
Joey Daso Winthrop Paroo
Kathryn Ridler Amaryllis
Joey Gabriel Tommy Djilas
Clayton Minder Charlie Cowell
Michael Wiley Jacey Squires
Johnathan Telepak Ewart Dunlop
Kevin Cline Oliver Hix
Lance King Olin Britt
Lisa Castelletti Ethel Toffelmier
Andrea Belser Alma Hix
Gabbi Capello Maud Dunlop
Laura Hart Mrs. Squires
Jeannette Cox Mrs. Britt
Gabriel Gabrovsek Kid Ensemble
Bridget Thomas Kid Ensemble
Kara Thomas Kid Ensemble
Zuzu Ilcin Kid Ensemble
Finn Gabrovsek Kid Ensemble
Sam Wirsing Kid Ensemble
Sophia Martinez Kid Ensemble
Tyler Thompson Kid Ensemble
Lauren Turos Kid Ensemble
Robert Corbin Kid Ensemble
Jimmie Willis II Kid Ensemble
Derrick Hudson Teen Ensemble
Amanda Ostroske Teen Ensemble
Joe Wirsing Teen Ensemble
Micayla Carafelli Teen Ensemble
Mary Sill Teen Ensemble
Emma Gyorki Teen Ensemble
Theresa Sill Adult Ensemble
Anita Anger Adult Ensemble
Barbara Rhodes Adult Ensemble
Elaine Andryscik Adult Ensemble
Trina Corbin Adult Ensemble
Dayna White Adult Ensemble
Frank Sliwa Adult Ensemble
Charlotte Mirabile Adult Ensemble
Tara Mirabile Adult Ensemble
Meg McGarry Adult Ensemble
Ryan C. Mayer Rock Island Feature
Mike Otcasek Rock Island Feature
Linn Obery Rock Island Feature
Thomas Wirsing Rock Island Feature
Jeff Ridler Rock Island Feature
Melody Obery Pick-A-Little
Kathy Pekarcik Pick-A-Little
Aria Mirabile Pick-A-Little


Charlotte Mirabile
Artistic Director of Silhouette Productions and employee of Messina Bakery
Read More on Art News
Volume 8, Issue 10, Posted 7:55 PM, 10.03.2016