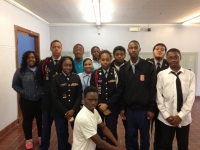 Pictured are the members of the JROTC military drill team, that took second place in this year's annual CMSD military drill team competition.
The mission of the Collinwood Army JROTC program is to motivate young people to be better citizens. Under the instruction of Major Thomas Jenks (Ret) and Sergeant First Class Enrique De Jesus (Ret) cadets learn skills necessary to be productive in their communities.
March 22nd, 2013 was the 18th annual military ball. Cleveland City Councilman Mike Polensek attended and spoke to cadets about the keys to success and his own high school career at Collinwood, where he is a member of the Hall of Fame. Our cadets learned valuable information during his presentation. Councilman Mike Polensek strongly supports Collinwood High School and the Collinwood community.
After the formalities, the cadets were able to enjoy the ball, socializing and dancing amongst themselves.
Below is a photo of the Collinwood drill team. They took 2nd place in this year's CMSD military drill team competition. Cadets work hard to learn strict military drills and to construct a routine for the exhibition round of the competition.
Anthony Battle is a senior at Collinwood High School and a 4th year JROTC cadet. After graduation, he will be heading off to the U.S. Marine Corps. Michael Parker, also a senior, and a 3rd year JROTC cadet, currently plans to enlist in the U.S. Marine Corps, following graduation.
Read Full Story
Volume 5, Issue 4, Posted 2:43 PM, 05.08.2013