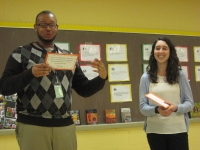 Collinwood teachers, Dean Bryson and Cara Colker-Eybel join in the African American Read-In.
View Image Gallery
Frigid temperatures and snow-filled skies did not deter Collinwood students, staff, families and community members from participating in the school's Family Literacy Night and first African American Read-In program, which culminated Black History Month activities.
Keynote speaker Margret Bernstein, Director of Advocacy and Community Initiatives at WKYC, shared her lifelong passion for reading and her mission to make literacy for all a top educational priority.
Collinwood grad, Ramona Smith delivered a similar message that resonated with the critical importance of early literacy and the need to read, read, read.
Read Full Story
Volume 7, Issue 3, Posted 7:53 PM, 03.06.2015