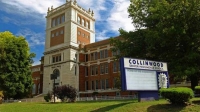 Dear parents, caregivers, residents, partners, and friends-
As you know, the District has engaged over the past year in long-term planning for our schools that included analyzing data and gathering stakeholder input. Last month, I presented to you and to the greater Cleveland community a set of draft recommendations for proposed impacts to our K-8 and high school portfolio.
Following extensive community engagement on these initial recommendations at meetings across the city, and in discussions with our Board of Education, we have explored additional options with District staff. Based on those steps, I am releasing a revised set of recommendations that will be presented to the Board of Education for their consideration on Tuesday evening. The full set of revised recommendations will be available shortly at QualitySchoolsforCLEKids.org.
Although much of the plan proposed in October remains unchanged, I am recommending two significant amendments to our high school recommendations.
Read Full Story
Volume 11, Issue 12, Posted 6:21 PM, 12.02.2019