2010 Cleveland Water Quality Report Now Available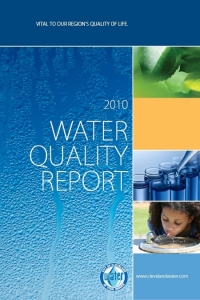 The Cleveland Division of Water (CWD) is committed to providing our customers with a first-class product – fresh drinking water. This commitment is our pledge as members of the Partnership for Safe Water program. The Partnership is a voluntary cooperative effort between the U.S. Environmental Protection Agency (US EPA), drinking water professional organizations and 200 drinking water utilities across the country. Utilities which join the Partnership agree to adopt performance standards where drinking water regulations do not exist to optimize treatment and protect the water supply against microbiological contamination.
The CWD uses surface water drawn from four intakes in Lake Erie as the source of our drinking water. Lake Erie is a part of the Great Lakes watershed. Ninety-five percent of the water entering Lake Erie comes from the upstream Great Lakes – Superior, Michigan, and Huron as well as all of the rivers and streams that flow into these Lakes. The remaining 5% comes from rain and snow in the Lake Erie drainage basin which includes the various streams and rivers that flow into Lake Erie. By their nature, surface waters, such as lakes and rivers, are accessible and can be contaminated by chemicals and disease causing organisms. Since our intake systems are located a considerable distance offshore (built in the early 1900s and again in the '40s and '50s), potential contamination from rivers, streams and other nearby sources is greatly minimized.
Since no single treatment process can address all possible contaminants, we use a multiple barrier process to treat Lake Erie water in order to meet drinking water quality standards. Cleveland Water is in compliance with all Maximum Contaminant levels and treatment techniques for drinking water. Cleveland Water also has a current, unconditional license to operate our water system issued by the Ohio Environmental Protection Agency.
To obtain a copy of our 2010 Water Quality Report, please contact Cleveland Water's Customer Service Department at 216-664-3130 or visit www.clevelandwater.com. To learn more about our drinking water, contact the Office of Communications, Special Events at 216-664-2444, x5676. If you want to receive this information in Spanish, please call 216-664-3130.
John Goersmeyer
I'm the Public Information Officer for the Cleveland Division of Water.
Read More on Health News
Volume 3, Issue 5, Posted 4:54 PM, 07.09.2011