Euclid Beach Blast! Saturday July 16th 11am-7pm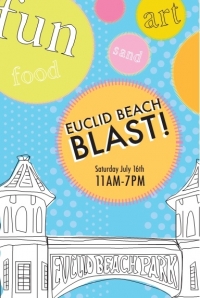 The Euclid Beach Adopt-A-Beach Team has partnered with Arts Collinwood and Project Pop-Up Galleries to bring you EUCLID BEACH BLAST! a day of free summer festivities, food, art, music, environmental awareness and fun at Euclid Beach Park on Saturday July 16th from 11am-7pm!
Help us kick off the day with a beach cleanup, then grab your shovels for a sand castle contest! Stroll an outdoor pop up art show, grab some food from one of Cleveland's famous food trucks, enjoy some tunes from 106.5 "The Lake" and learn about how you can help Euclid Beach and our Greatest Lake! Ride your bike and we'll even throw in a prize! Visit information tables from the Alliance for the Great Lakes, Northeast Shores Development Corporation, Euclid Beach Park Now and more! End the day with some live Latin music by Grupo Son Gitano! But if that isn't enough, join the After Blast! party at the Café Arts Collinwood at 7pm for more music, food and fun!
Schedule of Events:
11AM Kick off with a beach cleanup!
12PM The Sand Sculpture Contest Begins!
3PM Sand Sculpture and Project Pop Up Art Show Judging
1PM-7PM Park Tours, Booths, Music + Activities Games, Crafts, Food Trucks + Prizes throughout the day
4PM Waterloo Bike Tour Departs From Euclid Beach
530PM-7PM Live Music by Grupo Son Gitano!
7PM-11PM After Blast! Party at Café Arts Collinwood(15601 Waterloo Rd.)
MANY THANKS TO:
The Northeast Ohio Regional Sewer District, 106.5 "The Lake," Councilman Michael D. Polensek, Northeast Shores Development Corporation, Clevelander's In Motion: A program of the YMCA, The Collinwood Observer, The Euclid Observer
DIRECTIONS:
Exit I-90 at East 152nd st., Head NORTH, Turn RIGHT onto Waterloo, Turn LEFT onto East 156th St., Turn RIGHT onto Lakeshore Blvd., Turn LEFT into Euclid Beach Park (the park entrance is just past the old arch!)

Stephen Love
I am team leader of the Euclid Beach Adopt-a-Beach program. Each month our team conducts cleanups and water tests at Euclid Beach State Park. I am currently a graduate student at CSU pursuing a Masters of Public Administration.
Read More on Green Collinwood
Volume 3, Issue 5, Posted 4:54 PM, 07.09.2011