Trenching Lakeshore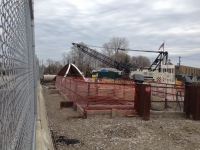 Vibration monitors make sure the blasting is within specified limits at the Triangle excavation site on Lakeshore Blvd.
So I went to the Euclid Creek Tunnel meeting – and learned that (a) the work will be considerably less dramatic than feared – the ten-foot trenches will occupy only a few blocks of Lakeshore – and (b) communication is very, very important. Briefly, Cleveland's original sewage system ingeniously provided for storm-water overflows so the treatment plants wouldn't be overwhelmed, but the system is no longer adequate, so a huge diverter tunnel is being dug/sunk/driven under the lake and Lakeshore Blvd to carry storm-water floods directly to the treatment plant, where they'll be cleansed of their admixture of household waste (the polite phrase) before going into the lake – instead of going straight in, as before, dissolving toilet paper and all. (You really need pictures to grasp this; go to www.neorsd.org and click on CSO.)
This storm-water diversion is a massive project; to build its 27-foot-diameter tunnel, the District has also built a power plant and is moving utilities left, right and center – "Lakeshore is just littered with existing utilities," said the harassed presenter. That's part of the street work you see now; the heavy construction bit is the sinking of shafts for micro tunnels, which will be followed by structures to pick up the overflow and help direct it to the diverter. Once construction of the tunnel itself begins, a massive boring machine (even now traveling to Cleveland) will p-u-s-h through the earth from Bratenahl to Nottingham, emerging at approximately Nottingham and E185 to be taken apart and sent home. (This conjured up images of an immense worm tunneling through the earth, which sent me off to Google ouroboros, but that turned out to be the snake swallowing its tail and symbolizing completeness.)
INFO STRAIGHT FROM THE CONSTRUCTION MANAGER by Jean Chapman

NEORSD has begun rock excavation at Shaft 4, which is located at Triangle Park on Lakeshore Blvd. Excavation includes blasting the rock 100 feet below the ground, which is the most common and safe method for removal.
'We understand that the word 'blasting' can invoke some fear in residents,' stated Doug Gabriel, NEORSD Construction Program Manager for the Euclid Creek Tunnel project. 'I want to reassure the residents that blasting rock beneath the ground is safe, effective and, nationally, a very common practice.'
In an effort to loosen the rock, a series of blasts, lasting 15 to 30 seconds, is required. Once the rock is loosened, it takes 2 to 3 days to remove it. Then blasting will resume and the removal process will be repeated. Residents can expect this to occur a couple times a week for 4 to 6 weeks. To date, one other Euclid Creek Tunnel shaft has been successfully excavated via the rock blasting process.
'To assure that residents are informed and at ease with the Triangle Park shaft excavation, NEORSD has placed vibration monitors at locations near the shaft excavation site, including locations across the street from the park. So far, the monitors have registered below specified limits,' stated Gabriel. 'Further, we'll keep residents and elected officials continually updated on the progress of the shaft excavation.'
WHAT YOU REALLY WANT TO KNOW (back to Nan here)

NEORSD will publish its construction schedule and (one hopes) the very informative map (of which they had only one copy at the meeting) in the Collinwood Observer and on their website, and will keep Councilman Polensek informed. The city, not NEORSD, is responsible for those potholes that currently make the two remaining lanes of Lakeshore's construction area barely driveable; call 664-2150 and give the patching crew details of location. Try not to yell at them.
Read More on News
Volume 4, Issue 3, Posted 12:41 PM, 04.03.2012