Help warm up Cleveland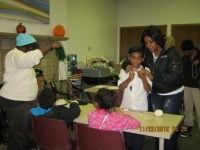 Nothing is more important during winter than keeping warm. Most will be bundled up with mittens, hats and scarves. A native Clevelander is always prepared for the brisk winds and heavy snowfall. What about those who aren't as fortunate to have these things on hand? In our community we a have a program called Warm-Up Cleveland which is hosted by the Cleveland Public Library.
This annual campaign was started by library staff in 2010 in memory of Librarian Diane Mathews, who was a lifelong knitter. She wanted her talents to be used for a charitable cause and Warm-Up Cleveland does just that. Items have been previously donated to charities such as: 2100 Lakeside Men's Shelter; Westside Catholic Center; Laura's Home; Asian Services; Providence House; and the Women's Recovery Center. At Collinwood Branch the Crochet Club is working on more items to donate with goals to reach even more people this year. We also need your help to make this program an even bigger success! Donations can be made at any Cleveland Public Library Branch or Main Library and upcoming Crochet Club meetings are as follows: December 20, and January 31. Join us and use your creativity to better our community.
Monique Christian-Long
I am the Library Assistant Youth Emphasis at the Cleveland Public Libraray , Collinwood Branch. Working in the arts has been a part of my lifelong journey through writing, singing, photography and playing music. I want to contribute some of those talents to this community and inspire youth to do the same.
Read More on Library News
Volume 5, Issue 11, Posted 5:40 PM, 12.12.2013