Fall into Exciting Programs at Collinwood Library!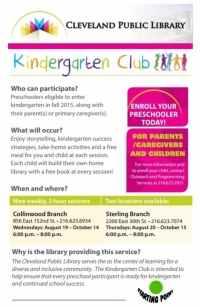 Fall into Exciting Programs at Collinwood Library!
856 East 152nd Street
Cleveland, OH 44110
216-623-6934
www.cpl-collwd@cpl.org
By Erica Marks
Kids Café
Visit the Collinwood Branch Library after school for Kids Café!
Beginning Tuesday, September 1 * 3:30pm—4:30pm
Harvest Hoopla!
Party with the pumpkins and sit on stacks of hay, we're starting the new season in a fun way!
Join us for an evening of fun stories, apple cider, games and more! (All Ages)
Thursday, September 24* 4:30pm
Banned Books Showdown!
We're having a Banned Books Showdown! What's your favorite banned book and why? Join us at the Collinwood round table, as we share titles and read exerts out of our favorite banned book! (Teens)
Thursday, October 1 * 4:30pm
Marshmallow Mix & Monster Stories!
Bring your favorite blanket and munch on marshmallow mix while listening to silly monster stories! (Toddler/School-Age)
Thursday, October 29 * 5:00pm
Free After-School Tutoring starts in October! More information will be forthcoming.
Adult Programs:
Free Computer Classes – Fridays in September -11:15am-12:45pm – Starting Sept. 4th
Topics: Computer Basics, Internet Basics, and Digital News & Searching.
GED Classes: New Day and time: Tuesday and Thursdays from 12:30pm-2:30pm
Starting Tuesday, September 1st. Call 216-371-7138 for registration information.
Erica Marks
Cleveland Public Library, Collinwood Branch, Children's Librarian.
Read More on Library News
Volume 7, Issue 9, Posted 6:40 PM, 09.08.2015