Phone Gallery: Making a Big Impact in a Small Space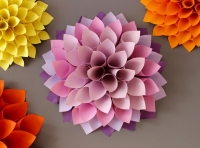 If you blink, you might miss Cleveland's smallest gallery housed inside a once vacant pay phone box annexed to the front of Russ' Auto Care in the west end of the Waterloo Arts District.
Originally conceived in 2013 by another artist and myself, Phone Gallery demonstrates the transformation of an otherwise underutilized "space" into an inventive place for art display. For nearly three years the diminutive gallery has exhibited emerging talent and preeminent Northeast Ohio artists and is the darling of my 2016 CPAC Creative Workforce Fellowship (thank you again to those who supported Issue 8 on the ballot last fall!).
The transformation from empty metal box to white walled gallery (with a shatter resistant, tamperproof "viewfinder") required imagination and great partnerships with a local handyman and Russ' Auto Care, from whom we siphon a little electricity every time someone walks by the motion-sensor operated LED lights retrofitted inside the pay phone box. The brick wall recess behind the box is painted bright yellow to grab your attention while the existing etched, graffitied pay phone box housing is left untouched, a relic of its former utility.
This is a little art space with a big mission – to make art accessible and approachable for everyone – 24 hours a day, 7 days a week, year-round. Each month, a new artist's work is installed in the gallery in advance of the first Friday "Walk All Over Waterloo" art walk. The gallery's goal is to alternate established local talent with student artists who may not have a portfolio of work to fill a "normal" room or building-sized space.
Through the end of the month, check out Cleveland-born artist and art teacher at Mater Dei Academy Tina Meeks' paper fabrication "Bloom". The artist is inspired by the spontaneity of nature and through this exhibition expresses kinship with the Earth and its natural beauty. The papers lush tones will have you longing for spring.
Are you an artist?
Phone Gallery accepts applications for a 1-month solo exhibition on a rolling basis and is currently looking for artists to fill slots in late spring and summer 2016. Don't miss your chance to exhibit during the annual Waterloo Arts Fest when tens of thousands of people flock to the street at the end of June.
There is never a fee to apply or exhibit.
Max display size: 11" w x 22" h x 6" d. Visual 2-D and 3-D pieces are encouraged. An outlet internal to the box is available for those submissions requiring electricity.
Apply at http://mycreativecompass.org/Employment/Calls-for-Artists/Open-Call-for-Cleveland-s-Smallest-Gallery2
Allison Lukacsy
Allison is a North Shore Collinwood resident, artist, neighborhood cheerleader and frequent contributor to the Collinwood Observer. She curates "Phone Gallery" and "LOCKS of Love from Waterloo" in the Waterloo Arts District and serves of the Board of Directors of Northeast Shores.
Read More on Art News
Volume 8, Issue 3, Posted 2:00 PM, 03.06.2016