CityMusic Cleveland to perform again in Collinwood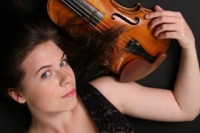 St. Jerome Church will again welcome the highly renowned CityMusic Cleveland Chamber Orchestra for a free concert Thursday, May 12, 2016. Doors will open at 7 pm and the concert will begin at 7:30 pm. No tickets are required for this family friendly event. The program will include Mendelssohn's Hebrides (Fingal's Cave), Dvořák's Violin Concerto, and conclude with Mendelssohn's Symphony NO. 3. Avner Dorman will conduct.
Violin soloist, Tessa Lark, will be the featured performer. Ms. Lark is a Tennessee native with Ohio connections, having joined the Starling Strings Program at University of Cincinnati's College-Conservatory of Music as a young girl. By the time she was 16, she performed as a soloist with the Cincinnati Symphony Orchestra and has since performed all across the country. She earned her Master's Degree from the New England Conservatory in 2012. When she is not performing, Ms. Lark has served on the faculty of the Great Wall International Music Academy in Beijing, China, and as resident faculty at Lee University School of Music. She is the recipient of numerous awards, including being named Silver Medalist in the 2014 International Violin Competition of Indianapolis, and top prizes in the 2012 Fischoff National Chamber Music Competition as part of her piano trio, Modêtre, and the Michael Hill International Violin Competition in 2009.
Join us before the concert in the school gym from 5:30 to 6:30 for Chili (con carne or vegetarian) and Loaded Baked Potatoes. Dinner is $8 for adults and $4 for children ages 3-12.
Read More on St. Jeromes
Volume 8, Issue 5, Posted 5:10 PM, 05.05.2016