Rain Barrel Workshop on September 15th at Euclid Senior Center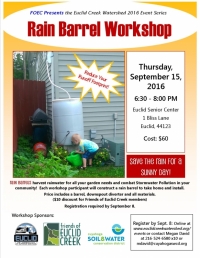 Learn how to harvest rainwater for all of your garden needs and to combat stormwater pollution in your community by constructing a rain barrel! Cuyahoga Soil & Water Conservation District, City of Euclid and Friends of Euclid Creek are hosting a Rain Barrel Workshop on Thursday, September 15th from 6:30-8:00pm at the Euclid Senior Center (1 Bliss Lane, 44123). The $60 fee includes a 60 gallon barrel, all materials and downspout diverter, but it is free to come and listen. Registration is required by Thursday, September 8.
A rain barrel is a container used to collect and store rainwater that would otherwise be lost to runoff and likely diverted to a storm drain. Collected water may then be used to water lawns and gardens.
To register for this workshop online go to www.EuclidCreekWatershed.org/events, or by phone or email at 216-524-6580x10 or mdavid@cuyahogaswcd.org by September 8.
Claire Posius
Euclid Creek Watershed Coordinator, Cuyahoga Soil and Water Conservation District
Read More on Green Collinwood
Volume 8, Issue 9, Posted 5:03 PM, 09.09.2016