Come enjoy City Music performance at St. Jerome Church on October 23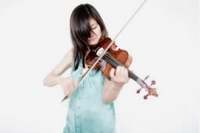 St. Jerome is delighted to welcome the sublimely talented musicians of the City Music Cleveland Chamber Orchestra back for another delightful, free performance on Sunday, October 23rd at 5pm. The orchestra's music director, Avner Dorman, will conduct and the program will feature one of Mr. Dorman's compositions, entitled "After Brahms – Three Intermezzi for Orchestra. Tchaikovsky's Violin Concerto and Beethoven's Symphony No. 4 will also be on the program.
Violin soloist, Sayaka Shoji will again perform with the orchestra. Anyone who was fortunate enough to have heard one of her performances last year with City Music can testify that we are in for a rare treat. Ms. Shoji has performed all over the world since winning the prestigious Paganini Competition in 1999. Now a resident of Paris, she so enjoyed her experience in Cleveland, the museums, the food, and the chance to perform the program over a period of consecutive nights and in doing so, more fully explore the music, that she happily agreed to return. We are glad she did and think you will be too!
Marguerite DiPenti
by Adele Markert
Read More on St. Jeromes
Volume 8, Issue 10, Posted 7:55 PM, 10.03.2016