Shop Local Shop Small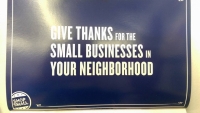 At the Beachland Hair Design, located at 18324 Lakeshore Blvd, from November 12th to November 26th, celebrate Shop Local Shop Small.
Join us for the 7 th annual Shop Small Shop Local Saturday. Again accepting food donations which will be handed over to The Greater Cleveland Food Bank. 50/50 Raffle and Basket Raffle. 50/50 running over the 2 week period Basket Raffle as we get them in!!!
Sue Brandt
Resident of neighborhood since 1956. Worked on East 185th street since 1970.
Read More on Events
Volume 8, Issue 10, Posted 7:55 PM, 10.03.2016