African Children's Choir Coming to Euclid December 14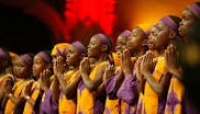 Your Christmas season will be extra special when you witness the charming smiles and delightful African tunes and ethnic instrumentation of the African Children's Choir Wednesday, December 14 at 7 pm in the gymnasium of Kiddie City Child Care Community 280 E. 206th St. Euclid. This free concert is a holiday gift from Kiddie City in celebration of children in Euclid and all over the world. Overflow parking at Our Lady of the Lake Church on Lake Shore Blvd. and a shuttle bus to Kiddie City will assure your ability to this concert.
The African Children's Choir is composed of eighteen African children, aged 7 to 10 years old. Many of these children from Uganda have lost one or both parents through the devastation of war, famine, and disease. They represent all the children from the African continent and demonstrate the potential to become strong leaders for a better future in their land. In spite of the tragedy that has marred their lives, the children are radiant with hope, gifted, and wonderfully entertaining through their song, music, and dance. Their music brings inspiration to virtually every listener.
Over the past twenty years, the children of all the choirs have appeared in thousands of concerts around the world and you will have an opportunity to support the educational programming for the children of the African Children's Choir through a free will offering during the concert. The ACC staff will also be selling choir cds and other choir related items after the program. If area residents would like to host some of the children and their adult chaperones for the nights of December 14 and 15, please contact Sherrie Zagorc at 216.798.7089 for more information.
Sherrie Zagorc
Sherrie Zagorc is a co-founder, volunteer and board member of Kiddie City Child Care Community. She also is the founder and chairperson of the E. 200th Street Stroll.
Read More on Events
Volume 8, Issue 11, Posted 7:00 PM, 11.07.2016