St. Jerome Students Care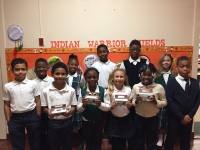 St. Jerome School has been bustling with activity. In the month of October, the school had an assembly to kick off our Pennies for Pasta service project. Students learned about Leukemia and how it affects people of all ages. Through visual "blood cells and veins" they observed how the body is affected in a negative way causing Leukemia. They were each given a box and asked to collect pennies, other coins, and bills that will help in research to cure this disease. The classroom that raises the most money receives a pasta luncheon donated by Olive Garden.
October could not end without students wearing Indian T-shirts to show support for our team in the World Series. We were rooting for the hometeam, and even though the Cubs won the Indians put forth a good effort and made Cleveland proud.
Conferences were held the first week of November as the quarter came to an end. We will continue to work hard during this school year to be the best we can be. We are an important part of the community. Students, teachers, and parents working together will help make this a wonderful place to live, work, and play.
Our students continued to show their kindness to others by collecting canned goods for the neighborhood food pantry. We celebrated Thanksgiving with a prayer service for the school community and those who wished to attend. We are grateful for all we have and are willing to share with others. We wish everyone a Happy Thanksgiving!
Kathy Hughes
Elaine Sowa, a third grade teacher at St. Jerome School and Kathy Hughes, a fourth grade teacher at St. Jerome School.
Read More on St. Jeromes
Volume 8, Issue 12, Posted 6:48 PM, 12.04.2016