Collinwood Neighborhood Catholic Ministries Announdes Two New Initiatives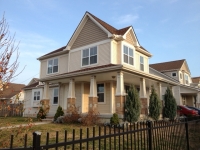 The Collinwood Neighborhood Catholic Ministries (CNCM) announces two new healing initiatives to advance the health and welfare of Collinwood residents: The Healthy Mothers; Healthy Babies project and a healing center. Both are scheduled to begin this Spring and Summer. These programs will be held at the CNCM House, located at 15706 St Clair Ave. (across from the Doller General Store) and at the 154th Street Community Garden.
Pregnant mothers will learn the value of proper nutrition as they grow and harvest their own vegetables in a community garden, attend nutrition classes, access the services of a doula and participate in a support group.
Those who have experienced trauma, such as victims of human trafficking and other forms of violence as well as those of us who experience the stress of daily living will benefit from the CNCM Healing Center. The Center will offer cranial sacral therapy and reiki. Jennifer Corlett, OSU from the former Sophia Center and Ann Winters, OSU from the Ursuline Reiki Clinic are masters and teachers of their respective modalities. Jennifer is a practitioner and teacher of cranial sacral therapy, a non-invasive process for using the inherent health in the body for relieving stress and working toward healing. Ann Winters is the Reiki Master who has brought Reiki energy to thousands in Cleveland.
Sr. Madeline Muller
staff member, Collinwood Neighborhood Catholic Ministries
Read More on Community
Volume 9, Issue 3, Posted 3:59 PM, 03.09.2017