Seems Like Summer Just Started!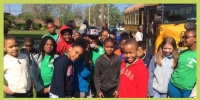 The 2017-2018 school year will begin at St. Jerome on Monday, August 28th with "walk-in day" when students and parents can stop in anytime between 9am and noon to visit their classroom, drop off supplies, purchase gym uniforms, and take care of all the paperwork that comes with back-to-school. Wednesday is "Back to School" Night at 6pm for families to come in and get additional information, tour the classrooms and meet their children's teachers.
Classes begin August 29th from 7:45 to 1:30pm. Students will have early (1:30pm) dismissal on August 30th & 31st as well and then a four day weekend for Labor Day. The normal school hours of 7:45 to 2:40 will begin on Tuesday, September 5th.
Not sure what supplies you need for 5th grade? Maybe you haven't finished your summer reading book, or maybe you aren't sure what color tennis shoes you can wear with the shorts uniform in September. The answers to these and many other questions can be found on our web page www.stjeromecleveland.org/school. Look on the "students" tab for the dress code, summer reading and supplies list and more.
Our Pre-K class is almost full! If your child is 4 years old, there is still time to apply. Call 216-481-1138 for more information. County vouchers are accepted.
Adele Markert
Parish Secretary/business manager at St. Jerome Church
Read More on St. Jeromes
Volume 9, Issue 8, Posted 12:12 PM, 08.04.2017