Silhouette Productions 2nd Annual Golf Outing Sunday, July 30, 2017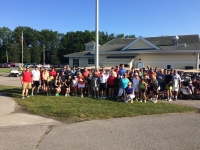 Silhouette Productions woul like to thank all Volunteers, Donators, Hole Sponsors, Golfers, Entertainment, Briardale Greens and their professional Staff for making this event a success.
The morning started out with beautiful weather, a picture perfect sky and fabulous "Bagel Buddy 's" donuts for the taking.
Our group of 56 golfers participated in an 18 hole scramble with Skins, Mulligans, Skill Shots, Putting Tournament and a new twist, the "String Game". Beverages were provided thoughout the day along with a flowing Keg of beer in the Stick's Bar & Grill. Lunch was provided at the turn and a Barbeque Chicken and Ribs Buffet dinner with Entertainment by "The Tony Dial Quintet".
Our Golf Teams consisted of Three Groups, All Men, All Women and Mixed Men and Women.
Winners:
All Men: Brendan McGarry, Kellen McGarry, Bill Knight, Rob Egan
All Women: Theresa Sill, Anne Calic, Toni Paul, Stacy Longo
Mixed Men & Women: Paula Seger, Tom Seger, Rose Manos, John Manos
Skills:
Women's Pin Shot: Stacy Longo
Women's Long Drive: Natalie Sheerer
Mens Pin Shot: Bill Knight
Men's Long Drive: Vince Continenza
Putting Tournament: Bob Paulenske
50/50: Theresa Sill
All in All everyone had a wonderful time.
We are looking forward to our 2018 Golf Outing and your Support of Attendance at our 2017 Production of "Annie Get Your Gun" this October 13,14,15,20,21 & 22 at Shore Cultural Centre.
Tickets are now on sale: Shore Cultural Centre Website or call 216-219-3630
Thank you for all that you do to Support Silhouette Productions and Shore Cultural Centre.
Charlotte Mirabile
Artistic Director of Silhouette Productions
Read More on Community
Volume 9, Issue 9, Posted 4:22 PM, 09.14.2017