Historical Entryway Restored with Help from Neighborhood Connections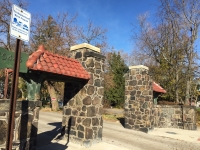 Driving along Lakeshore Boulevard in the early 20th century, you would have come across many hand-built stone pillars and other statuesque markers defining entrances into small residential communities and campgrounds within the North Collinwood and Euclid neighborhoods.
Modeled after the famous Euclid Beach Park arch over the entrance to the former amusement park (and now the entrance to the Euclid Beach Apartments), area residents erected similarly styled structures in the 1900's – 1920's in cottage developments that served as summer retreats for religious groups, prominent Cleveland socialites and families enjoying amusements and recreation on Lake Erie.
One of the last remaining original entryways is located at The Villa Beach Club, just west of E.156th Street north of Lakeshore Boulevard. While the overall structure has remained intact and mostly stable over nearly a one hundred year period, some of the mortar was failing, roof tiles were broken and the lead-based paint system was flaking. Recent repaving of Lakeshore Boulevard and adjacent sidewalks were not kind to the historic structure and repairs were in order. A small group of residents banded together to formulate a plan to return the structure to a point of pride for the community.
Over the course of the past few years, residents of Villa Beach have fundraised for an entry renovation - which in addition to serving cars and pedestrians entering the private community, provides shelter for RTA riders at the nearby bus stop. A yard sale in summer 2016, a dues assessment to Villa Beach homeowners and a previous grant award offset by volunteer labor and materials were recently leveraged to win a 'Neighborhood Connections' grant for $2,500. This funding allowed for not only a renovation of the structure, but a restoration of some elements to return the fine artisanship of the stonework and rope-joint mortar to its original glory. In addition, the lead paint was properly abated and decorative additions made in recent decades were removed. New painted tiles and wood supports will match their original colors when the work is completed in spring 2018.
From the beginning, the concern for safety of those in and around the entryway drove the efforts. Over the past few decades, a metal pipe and wooden signs were added, but the new signage proved ineffective especially for emergency vehicles who had difficultly locating the property. New address numbers and other signage is planned to fit with the authentic character of the entryway while providing ideal legibility for emergency vehicles.
Neighborhood Connections provides residents of Cleveland opportunities to improve their communities through grant funded projects. This application was submitted with support from Councilman Polensek and Northeast Shores Development Corporation. The Villa Beach Club is proud to have restored one on of the last remaining original entryways and to have made an investment so that future generations can learn about and appreciate the significant history of North Collinwood.
Allison Lukacsy-Love
Allison is a North Shore Collinwood resident, architect, artist, neighborhood cheerleader and frequent contributor to the Collinwood Observer. She curates "Phone Gallery", founded "Bus Stop Moves", upcycles street and beach trash into art and serves on the Board of Directors of Northeast Shores.
Read More on Community
Volume 9, Issue 12, Posted 10:07 AM, 12.08.2017