Make a Difference: "Big Clean" Looks for Volunteers in 2018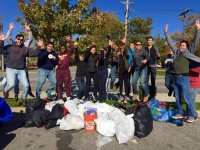 The snow has fallen, trapping wrappers, bottles and other litter until the spring melt when the trash reappears along city streets. It is not a pretty visual, but you can help make a difference in the appearance of a cleaner, more beautiful Collinwood.
Save-the-date for the second annual Euclid v. Collinwood "Big Clean" Great American Cleanup on Saturday, April 21st, 2018. The date is a few weeks earlier than last year and coordinates with the date of Cuyahoga County's countywide cleanup with the Litterbugz as well as the weekend recognizing Earth Day.
Want to help plan the "Big Clean"? The first meeting of the new year will take place during the 'Keep Euclid Beautiful' meeting on Wednesday, January 17th, 2018 at 6pm at Euclid City Hall (585 East 222nd Street).
For more information or questions on how to get involved, contact Stephen Love at stephen.love20@gmail.com .
Allison Lukacsy-Love
Allison is a North Shore Collinwood resident, architect, artist, neighborhood cheerleader and frequent contributor to the Collinwood Observer. She curates "Phone Gallery", founded "Bus Stop Moves", upcycles street and beach trash into art and serves on the Board of Directors of Northeast Shores.
Read More on Community
Volume 10, Issue 1, Posted 4:09 PM, 01.15.2018