Nearly 100 Years Young!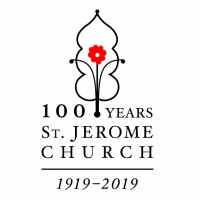 Attention St. Jerome Alumni & Friends!
As we near our Centennial Celebration we need your help. First if you would be so kind as to update your contact information so we can keep you informed of events. Second, we need people to help to organize and plan, especially the multi-year reunions and the Gala Brunch. And we need everyone's help to spread the word. Please fill out the form below and return it or email us at saintjerome100@gmail.com or on line at www.stjeromecleveland.org. You can also message us on Facebook at stjeromecleveland.org or by phone at 216-481-8200
SAVE THE DATES
Sunday September 30th, 2018, the Feast of St. Jerome and the kick off event for our Centennial Celebrations. The Reverend Roger Gries will preside at 10am Mass. A school tour, coffee and donuts and our annual Clam / Steak Bake will follow.
July 21st, 2019 the Most Reverend Nelson Perez will celebrate Mass at St. Jerome at 10am. A Gala Brunch will follow at Tizzano's Party Center in Euclid.
Festivities will close on Sunday, September 29, 2019 with the annual Clam / Steak Bake.
In between these events we hope to have four multiyear reunions (60' & 70s, 80s & 90s, etc.), several special concerts, and of course the Parish Picnic. We welcome you to get involved!
____________________________
Name
____________________________
Address
____________________________
City, State, zip
____________________________
Email
____________________________
Phone
Please return to St. Jerome
15000 Lake Shore Blvd
Cleveland, Ohio 44110
Adele Markert
Parish Secretary/business manager at St. Jerome Church
Read More on St. Jeromes
Volume 10, Issue 2, Posted 2:06 PM, 02.10.2018