CNVDC partnering up to serve you better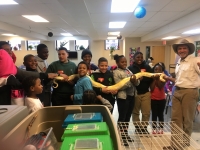 Collinwood & Nottingham Villages Development Corporation (CNVDC) is growing to better serve you. CNVDC is now partnered with the Five Pointe Community Center (FPCC) to expand the services throughout the southern part of Collinwood. CNVDC has been long geared toward serving residents with housing and safety issues. With the addition of the staff at the FPCC we will be expanding our outreach services into the community.
FPCC houses a senior meal program that offers seniors meals on Monday, Tuesday and Thursday every week. Seniors must be pre-registered before attending meals and can come to the center to sign up. During the summer season and during school breaks FPCC works with other community partners to help provide meals and activities to serve the children in the neighborhood.
The Cleveland Food Bank partners with FPCC to provide a free produce distribution at the center from March – November on the second Wednesday of the month from 2-5 p.m. We encourage people to bring their own bags to the distribution to take items home. Pantry items are distributed to community members once a month usually on the last Thursday of the month at 1:30 p.m. Both of these events are free of charge, registration happens the day of distribution and supplies are limited on a first come-first served basis. A current ID is required.
Other programs that are available through FPCC include a Medicare specialist who works with individuals to make certain that they are getting the most out of their benefits. Walk-ins are welcome on Thursday afternoons and other times are available by appointment. We also work with the Cleveland Catholic Diocese Workforce Development Program at St Philip Neri to help build job skills. Everything from resume' writing to assessment testing are available. We are continually changing and adding programs to better serve the community. You can keep up to date on all activities by connecting with us on Facebook at either Collinwood & Nottingham Villages or Five Pointe Community Center. You can also reach Five Pointe Community Center at 216.268.2138.
Collinwood & Nottingham Villages Development Corporation
The Collinwood & Nottingham Villages Development Corporation is a non-profit organization created to preserve, promote, and protect the quality of life in our communities. We serve as an economic pump and liaison between businesses, industry, and residents. We work closely with our councilmen, political leaders, and city departments including the Departments of Safety, Health, Community and Economic Development,and Building & Housing. The corporation is operated by a board of trustees representing area residents, churches, business, and industry. Our office is located in Collinwood Village, staffed by 2 full-time and 3 part-time individuals. The corporation is funded through the City of Cleveland, as well as private donations, and other grants.
Read More on
Volume 10, Issue 4, Posted 3:25 PM, 04.04.2018