Guess what time it is!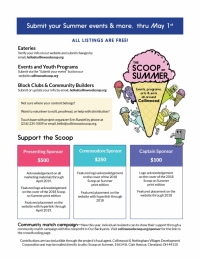 How do you know it's Springtime in Collinwood? Red-winged blackbirds are calling from the trees. Ladies with solo cups of wine are strolling our lakefront parks in the chilly sunshine, and we're calling out for content for the Scoop on Summer. What's the Scoop? It's a calendar that rounds up all the events, programs, arts & eateries around our community.
But the Scoop is not the Scoop without you. Your events, programs, and financial support are what have made this grassroots project possible, showcasing our gritty little slice of heaven for residents and visitors far and wide--now for the 12th year.
Submit your events & more online at collinwoodscoop.org. All listings are free.
Eateries can verify their info on the website and submit changes by email to hello@collinwoodscoop.org.
Block Clubs & Community Builders should check that their listings are correct, and send any updates by email.
Events and Youth Programs should submit via the website.
Not sure where your content belongs? Want to volunteer to edit, proofread, or help with distribution? Touch base with project organizer Erin Randel by phone at (216) 235-5009 or email.
All listings are free thanks to the generosity of our sponsors. Many hands make light work, please consider serving as a sponsor at the $500, $250 or $100 level, or contributing to our community-match crowdfunding campaign hosted by ioby.
You can show your support through a community match campaign, just visit collinwoodscoop.org/sponsor for the link to the crowdfunding page. Big sponsors want to see that residents and small donors value the project, so even a donation of $5 helps us out.

Contributions are tax deductible through the project's fiscal agent, Collinwood & Nottingham Villages Development Corporation and may be mailed directly attn: Scoop on Summer, to 15614 St. Clair Avenue, Cleveland, OH 44110.
Erin Randel
Erin Randel is an artist and community organizer serving the Collinwood community since 1999.
Read More on Community
Volume 10, Issue 4, Posted 3:25 PM, 04.04.2018