Centennial T-Shirts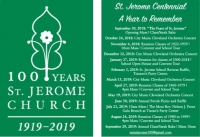 100 Years and Counting!
Please join us in celebrating our Centennial by considering a small donation to continue to support our mission! For any donation of $12 or more, you can receive a Commemorative St. Jerome Centennial T-Shirt. These high quality T-shirts in kelly green are available in adult sizes from Small to 2XL, and are available for pick up or delivery to your home.
Want more than one T-Shirt? Consider donating an additional $12 or more to receive an additional T-Shirt.
Cash/Check/Online Donation
** note: credit card donations can only be taken online at
https://stjeromecleveland.churchgiving.com/CentennialDonationTshirtTU **
Please mail to:
St. Jerome Church
15000 Lake Shore Blvd | Cleveland, Ohio 44110
please detach and return:
Size
S
M
L
XL
2XL
TOTAL QTY
Donation
TOTAL
QTY
$12.00
$
I will pick up my T-Shirt at the Rectory
¨
FREE
I want my T-Shirt delivered to my home address
¨
$6.00
I would like to made an additional donation of
$_______
TOTAL DONATION
$
Name:
Mailing Address:
City/State/Zip:
Phone:
Email:
Adele Markert
Parish Secretary/business manager at St. Jerome Church
Read More on St. Jeromes
Volume 10, Issue 8, Posted 9:13 AM, 08.04.2018