Veterans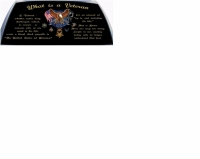 In November of 1918 an armistice was signed to bring to an end to World War I better known as "the war to end all wars." The armistice was signed between the Western Allies and Germany to bring about the cessation of hostilities on the Western Front and took effect at the "eleventh hour of the eleventh day of the eleventh month" of 1918.
In November 1919, President Wilson, proclaimed the first commemoration of Armistice Day with the following words, "To us in America, the reflections of Armistice Day will be filled with solemn pride in the heroism of those who died in the country's service and with gratitude for the victory, both because of the thing from which it has freed us and because of the opportunity it has given America to show her sympathy with peace and justice in the councils of the nations…"
November 11th signifies the ending of hostilities in 1918. Unfortunately, we have been involved in far too many more wars and conflicts since 1918. Since that first commemoration till today it is a way of honoring ALL VETERANS who "volunteered to boldly defend and valiantly preserve our Nation's liberties and freedoms." The American Veteran should always be seen as the model of true heroism, service and sacrifice. Our Veterans are separated by the generations from the time our Country was founded to today and yet these same men and women are a testament to the inherent spirit of patriotism.
We should strive for ourselves to emulate the same. We often confuse Veteran's Day and Memorial Day, though. Remember that even though Veteran's Day is a day of remembrance it is also a day of celebration; a day to honor and celebrate ALL veterans! So, when you see a Veteran on this day, or on any day in fact, – say "Thank you."
We in Ward 8 have an opportunity to honor our veterans in a very special way. The former "Triangle Park" was transformed into "Veteran's Park" in 2016 to honor "all the courageous men and women of the Collinwood and Nottingham communities …. who volunteered to boldly defend and valiantly preserve our Nation's liberties and freedoms."
We are still looking for VETERAN'S STORIES. Whether you are a veteran yourself or a loved one of a veteran who has passed to the "bivouac of the dead" we are asking you to share with us "A Veteran's Story." See the inset and return this via mail or email. Through the Collinwood Nottingham Historical Society we will collect these stories and are planning to share them at a later date.
For me Veteran's Day was unique because it not only was it a time to honor and pay respect to our veterans, which I had many in the family and amongst our friends at Church, it was also my parent's anniversary who were married on 11 November 1944.
I was taught from an early age to honor and respect those who served in America's Armed Forces. Then again, there was a tradition of service in my family. My father served in the Army during WWII as a T5, stationed in Virginia, while his brother served with the Army overseas and saw action at the Battle of the Bulge and a cousin served in the Marines also during WWII. In addition, another uncle served during WWII, a cousin served the Army during the Korean Conflict and my mother's brother served in Vietnam, gratefully returning home.
In my husband, Tim's family, there is also a tradition of service. His great aunts served as Army Nurses and WAC's during WWII, his father served during the Vietnam era while an uncle, whom he never knew, was killed in Vietnam. One branch of his family can even be traced back to the Civil War era where many members of the RUPLE family (of Collinwood) served during this pivotal era of our country's history and one young man "gave his all" at Stone's River, Tennessee in January 1863.
Our community has a tradition of service, too. I can trace this service of Collinwood and Euclid Township citizens back to the American Revolution through the War of 1812 and the Civil War, the Spanish American War, WWI, WWII, Korea and Vietnam and all the other wars and conflicts America has ever been involved in. Our cemeteries are full of veterans who called Greater Collinwood home who either gave of their service or gave of their lives to keep America free. Make sure your loved one will be remembered, too.
If there are any questions regarding our ward's Veteran's Park or our Veteran's Project please do not hesitate to call. You may reach me in Councilman Polensek's office at (216) 664-4236 or via email at mdaley@clevelandcitycouncil.org.
Read More on Community
Volume 10, Issue 11, Posted 12:06 PM, 11.04.2018