Join a plogging cleanup!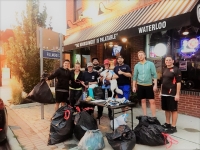 Join Cleveland Ploggs Wednesday March 27th at 6pm on Waterloo for a plogging cleanup!
What the heck is 'plogging' you ask?
Plogging is a fitness trend that originated in Sweden and is slowly spreading throughout the world. The term Plogging is derived from the Swedish phrase "plocka upp," which translates to pick up. Plogging involves a combination of jogging and picking up trash along your running route using a plastic bag to collect the litter you find along your route. Plogging is great exercise and a great opportunity to make a positive impact on our environment and our neighborhood!
Volunteers will meet at the Waterloo Arts District Stage (at the corner of East 156th St. and Waterloo Rd.) at 6pm to sign in and collect cleanup supplies. The Plogging route map will be posted to the plogging facebook event. We will review the route before heading out from the Waterloo stage. Best part of all, you don't have to run marathons to Plogg! This will be slow paced run - just under 2 miles - with plenty of stops along the way to pick up trash!
Please wear clothing you don't mind getting sweaty and a little dirty and please wear closed toed shoes - preferably shoes you don't mind running in! Water and light refreshments will be provided before we head out.
We'll cross the finish line around 7pm back at the Waterloo stage where we'll stretch out and take stock of the trash haul! We'll also talk about Cleveland Ploggs and growing a plogging movement in the neighborhood and beyond. Best of all, ploggers will receive a coupon to Chili Peppers Fresh Mexican Grill - good for 1/2 off your purchase of a meal item and drink!
Still on the fence? You can learn more about plogging via the following links
We Need This - We can all learn from plogging, the popular fitness craze taking over the world https://goo.gl/P5erB3
The Washington Post - Plogginng is the Swedish fitness craze for people who want to save the planet https://goo.gl/c2F6GR
City Lab - Pick Up Trash While You Exercise. It's Called Plogging
https://goo.gl/xRFVRc
For more info, check out our facebook event https://goo.gl/t7x9Yc email adopt.euclidbeach@gmail.com, or call 216-571-0685.
Happy Plogging!

Stephen Love
Stephen Love is a Lake Erie fanatic from Cleveland, OH. In his day job he works for the Cuyahoga Land Bank and in every other waking moment is the founder and coordinator of Euclid Beach Adopt-a-Beach Team and Euclid Beach Blast! He started Euclid Beach Blast out of a desire to explore the connections between environmental stewardship, art, public spaces, music, and community.
Read More on Green Collinwood
Volume 11, Issue 3, Posted 2:52 PM, 03.10.2019