Is Collinwood High in Your Child's Future?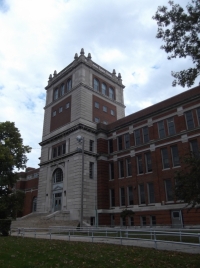 Remember that insurance ad, 'Life comes at you fast'? Your child may have only started grade school, but the Cleveland Metropolitan School District invites you to think about your hopes and dreams for your child's future, and what kind of high school experience you look forward to giving them to prepare them for their future.
They've taken significant action at the elementary level here: since 2002, the district has rebuilt Collinwood's five largest elementary schools--East Clark, Euclid Park, Hannah Gibbons, Memorial and O.H. Perry. Each offers free, full day Preschool, Kindergarten, and 1st through 8th grades in clean and secure modern buildings. As public schools, they are committed to serving all children regardless of special needs, and have reported steady improvements on state measures.
Now it's time to plan around your needs in secondary schooling. Collinwood High School (the building) once had 3,000 students. Enrollment in New Tech Collinwood (the academic program now in the building) has hovered around 300 students in recent years.
Is Collinwood High in your child's future? Why or why not? What kind of program would CMSD need to offer for you and your family? Where, and in what setting, would you like that program to be offered? Eric Gordon and his team want to hear from you, the parents and caregivers of their future students.
The planning happening now will shape the programs opened and building plans over the next 5-7 years. Don't miss your chance to hear directly from CEO Gordon about the challenges we face citywide and as a neighborhood, and give feedback. You can do this at a at a meeting on Saturday, October 5 at Collinwood High School, 15210 St. Clair Ave., or online, at www.QualitySchoolsforCLEkids.org to view the citywide data and share your feedback.
Urban activist Majora Carter's is known for saying that, "you shouldn't have to move out of your neighborhood to live in a better one." With this process, you have a chance to shape the school district to meet your needs. You shouldn't have to move to go to a better school.
Erin Randel
Erin Randel is an artist and community organizer serving the Collinwood community since 1999.
Read More on
Volume 11, Issue 10, Posted 10:23 AM, 10.06.2019