Liz Sellers '02 named VASJ head women's volleyball coach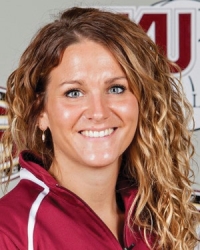 The Villa Angela-St. Joseph High School Athletic Department is excited to announce the appointment of Liz (Guard) Sellers '02 as the new head women's volleyball coach.
Sellers is an alumna of VASJ, where she was a member of the 2001 OHSAA DIII State Championship team under former coach Mark Royer '75.
Sellers continued her academic and athletic careers at Eastern Kentucky University, where she received both her Bachelor of Arts degree in public relations and her Master of Science in physical education and sports administration. She was a four-year starter for the NCAA Division I Colonels. In 2005, she was named an All-American, the first in program history. In 2015, Sellers was inducted into the Eastern Kentucky University Athletic Hall of Fame in recognition of her stellar collegiate career.
Since leaving EKU, Sellers has spent more than a decade coaching women's volleyball, most notably as an assistant at the University of Tulsa and EKU. In this past 2019-20 women's volleyball season, Sellers was an assistant coach for the VASJ Vikings.
"We are excited to have Liz as our head women's volleyball coach," said Elvis Grbac '88, VASJ athletic director. "She brings a new and exciting perspective to high school volleyball that will transpire into a competitive and winning program. Her experience and accomplishments can only build upon the tradition and foundation here at Villa Angela-St. Joseph High School."
Read More on VASJ
Volume 11, Issue 12, Posted 6:21 PM, 12.02.2019