Collinwood Slovenian Home News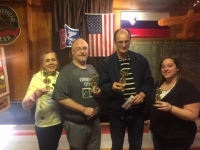 The Collinwood Slovenian Home has had a great year full of fun and comraderie!
Reminding all members to renew memberships by Feb 9. (One year only $15.00)
New members of Slovenian descent are welcome. Former members of Waterloo Home---please join us!
We are your Slovenian Home, celebrating one hundred years in the Collinwood community at our historically designated landmark building.
We now have Ohio Lottery! Keno, Pick 3, 4, Classic Lotto, MegaMillions, pull tab tickets, EZ play games--we have it all! Also featuring a Queen of Hearts game for members, every Monday at 7 pm.
We had a fun bowling season culminating in a celebretory banquet with many awards and prizes given out. New bowling league starts the week of Feb 10.
Some of our upcoming events:
Euclid Animal Shelter benefit purse auction--Sun, Feb 16, 1--4 pm. Only $5.00; food, prizes, and cash bar. Call 216-289-2067 for reservations.
Our 50/50 raffle--Friday, Feb 21, at 6 pm; Cash prizes, food.
Ribeye Steak dinner--Sun, Feb 23, 3--7 pm. $20.00
Corned Beef dinner--Sun, Mar 15, 3--7 pm--$15.00
For any information about membership and events, please call 216-681-6649
15810 Holmes Ave, Cleveland, 44110. (Right down the street from St. Mary's.)
Support your Collinwood Slovenian Hall!
Read More on Community
Volume 12, Issue 2, Posted 5:31 PM, 02.05.2020