Construction begins at Easterly Wastewater Treatment Plant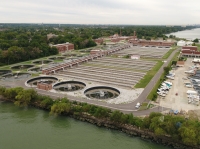 Beginning in March, the Northeast Ohio Regional Sewer District will begin construction of the Aeration Tanks Rehabilitation project (ATR-4) at the Easterly Wastewater Treatment Plant. The prime contractor for this $10.4 million project is Shook Construction Co.; entire project is expected to last two years.
This project will make performance and energy efficiency improvements to the treatment plant's equipment, including eight aeration tanks. Aeration tanks use microorganisms and oxygen to break down organic materials and nutrients in the wastewater treatment process.
"We hope to minimize construction impacts as much as possible, but there will be increased odors as we dewater and clean the tanks," said Robert Bonnett, Plant Superintendent. "We wanted our neighbors to know in advance and I thank them for their patience as we continue to make improvements at Easterly."
The Sewer District does not expect to encounter additional noise, dust, or truck traffic.
If you have any questions or concerns about this critical work, please contact the Sewer District's Customer Service Department at 216.881.8247 or askus@neorsd.org.
Jennifer Elting
Jenn Elting is the Senior Public Information Specialist at the Northeast Ohio Regional Sewer District. She looks forward to seeing you at the Clean Water Fest in Cuyahoga Hts. on Sept. 12!
Read More on Community
Volume 12, Issue 3, Posted 5:26 PM, 03.09.2020