DWGN Radio presents The Community Record Contest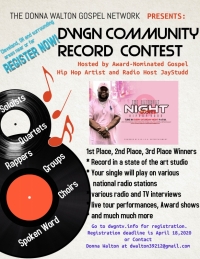 Calling all Soloist, Rappers, Groups, Instrumentalists, Spoken Word Artists to present the opportunity to win studio time to record your very own original Single to be played on several nationwide radio stations, be on several radio interviews and shows, featured in various magazine and newsletter articles, perform in the IRC Concert Tours, Conferences, Events, and much more. Registration is available through April 18th. Go to the Indie Radio Coalition webpage, dwgntv.info to register or contact Donna Walton at dwalton39212@gmail.com for more information.
Donna Walton
I am the owner of The Donna Walton Gospel Network, Syndicated Radio Show Host and Editor of IGA E-Magazine. I find talented Indie Gospel Artists across the country and promote them to a vast audience. I interview them and showcases their music via various platforms.
Read More on Community
Volume 12, Issue 3, Posted 5:26 PM, 03.09.2020