An Ode To Diners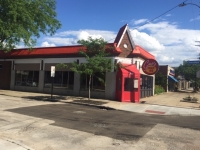 Diners are the quintessential American dining experience. Simple good food served quickly and at a
fair price without pretensions. Perfect for informal meeting of friends, chance seeing of folks you haven't
seen in a while, or catching up on reading of newspapers and magazines over some coffee. Since moving
to the neighborhood in 2003, we've lost a number including Fanny's and Fotina's on East 156th Street.
Now after the Covid 19 pandemic and sewer construction on East 185th Street, Luckys' Barry Dobish has
since also thrown in the towel. Which leaves us with Gus's Diner on East 185th and Cherokee Avenue.
Gus's has always been a popular venue, especially for weekend brunches. But even with the remodling
while shut down prior, and the taking of all the recommended precautions of guards between booths and
reduction of the number of tables, they still must deal with road closures at their doorstep. Let's not forget
all the businesses along 185th, restaurants, babershops, shops of all kinds that need our support now more
than ever. Yet a city neighborhood without a local diner to me anyway is missing the glue that helps ties us
all together.
Gus's Diner, 797 East 185th Street, Cleveland, Oh 44119, (216) 481-8781, Mon-Sun 7-4
Dine in or take out available. Rear parking lot accessible from Kildeer and Cherokee Avenues.
William McCulloch
Amateur local historian
Read More on Community
Volume 12, Issue 7, Posted 5:01 PM, 07.06.2020