RJEC Hosts 5th Annual Collinwood Community Fair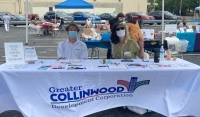 Renee Jones Empowerment Center, a local non-profit working to eradicate human trafficking in Northeast Ohio, hosted the 5th annual Collinwood Community Resource and Empowerment Fair, Saturday August 15th.
Arriving, one could immediately perceive the buzz of a splendid and well-organized day of community, togetherness, and empowerment.
Located at the People's Church of God in Christ at 900 East 152nd Street, participants had the opportunity to play a sort of community resource hopscotch in which each person received a sticker after successfully visiting each respective community organization, easily facilitating a quick but comprehensive summary of the resources available.
Additionally, there was a separate track for both adults and kids, with personal care items and school supply giveaways awarded to each upon successful completion of visiting each organization.
Partnering organizations included: Greater Collinwood Development Corporation; Church of the Holy Angels; SOAP Cleveland, Bellefaire JCB; Greater Cleveland Food Bank; The Gathering Place- Facing Cancer, Embracing Life; Bikers Against Child Abuse (B.A.C.A.) Erie Shores Ohio Chapter; People's Church of God in Christ; Stella Maris, Inc.; GEMS Life Skills Academy, Cleveland Public Library- Collinwood Branch; Metro Health Cancer Center- Community Outreach; UPS; National Congress of Black Women- Greater Cleveland Chapter; Northeast Ohio Voter Advocates; Consult to Code, LLC; Proper Kreations; Collinwood Neighborhood Ministries; and Cleveland KIds.
A special note of gratitude to: Church of the Holy Angels for making lunches for all the guests and volunteers in addition to the enormous amount of school supplies, backpacks, games, and toys for the children; National Council of Jewish Women/Cleveland for the abundant toiletry and cosmetic supplies; Children's Museum of Cleveland for putting together 100 unique craft bags for the kids; and finally, to Cleveland Hope Exchange for the personal hygiene gift bags.
To see photos from the 5th Annual Collinwood Community Resource and Empowerment Fair, please visit GCDC and Renee Jones Empowerment Center on Facebook.
See you next year!
Read More on Community
Volume 12, Issue 9, Posted 4:17 PM, 09.03.2020