VASJ Alumni: Get to Know Ashen Ward '08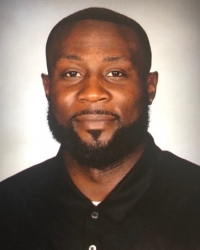 Ashen Ward Sr. is a 2008 graduate of Villa Angela-St. Joseph High School. During his time at VASJ, Ashen maintained a 3.8 GPA, was captain of the men's varsity basketball team, and was named the Division III Player of the Year in 2007 and First Team All-Ohio in 2008.
Following VASJ, Ashen continued his academic and athletic career at Youngstown State University. His achievements on the court earned him a Division I scholarship as well as the title of team captain and the Bill Daley Leadership Award in 2011 and 2012. Ashen holds a bachelor's degree in special education from YSU and a master's degree in educational administration from Cleveland State University.
Ashen worked as an intervention specialist at Orange High School for the last seven years and coached basketball for eight years, now entering the fourth serving as head coach. In the spring of 2020, Ashen was named head coach of the VASJ men's basketball program. Previously, he served as assistant coach for the VASJ basketball teams that won the state championship in 2015 and 2017.
Ashen is the proud husband of Nikki and father to two beautiful children, Ashen Jr. and Alivia.
Where did you grow up while attending VASJ?
I was born and raised in Cleveland. I grew up in the Collinwood area for most of my childhood. From the ages of 3 to 14, I lived off of Lakeshore Boulevard. However, as a sophomore at VASJ, my parents and I moved to Richmond Heights.
Where did you go to school before VASJ?
Prior to attending VASJ, I went to Margaret Spellacy Middle School and Henry W. Longfellow Elementary School.
Which teacher or class at VASJ do you remember most and why?
I enjoyed many classes during my time at VASJ, but the most memorable classes for me were the computer skills course taught by Mr. Steve Wallace and my English class taught by Mrs. Lori Morth-Suttell. I enjoyed both of these classes because we had inspiring conversations about life and how our choices/actions either positively or negatively affect our future and community. These discussions stuck with me for the rest of my life and helped to shape the man that I am today.
Did you have a favorite spot to hang out and what did you like about it?
My favorite place to hang out at VASJ was the gymnasium. I love basketball, so any time that I could get in the gym, that's where I wanted to hang. Whether I was watching film with some of my teammates, getting up shots after lunch, or playing card games with Coach Tony Redding and my friends, the gym was always my favorite place to be.
What, if anything, about your experience at VASJ would you do over?
If I could do anything over during my time at VASJ, I would have probably been more active in extracurriculars other than basketball. I wish I had run for student council or even joined some other clubs. Academics and basketball were my main priority, but looking back, it would have been nice to be more involved with other groups within the community.
To participate or nominate someone for a VASJ Alumni: Get to Know column, contact Cheryl Stashinko at alumni@vasj.com
Cheryl Stashinko
Cheryl Stashinko, Associate Director of Alumni Relations at VASJ
Read More on VASJ
Volume 12, Issue 9, Posted 4:17 PM, 09.03.2020