Phone Gallery: Calling All Artists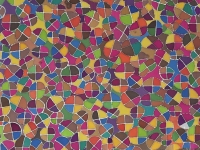 Sometimes, bigger isn't better. This is the case with 'Phone Gallery' - Cleveland's smallest gallery - annexed to the front of Russ' Auto Care in the west end of the Waterloo Arts District.
Originally conceived in 2013 by another artist and me, Phone Gallery demonstrates the transformation of an otherwise vacant and underutilized "space" - in this case, an abandoned pay phone booth - into an inventive place for art display.
The transformation from empty metal box to white walled gallery (with a shatter resistant, tamperproof "viewfinder") required imagination and a great partnership with a local handyman and Russ' Auto Care, from whom we siphon a little electricity every time someone walks by the motion-sensor operated LED lights retrofitted inside the pay phone booth.
The inaugural exhibition kicked off last spring, leading to a crowd-sourced photography contest during the 2014 Waterloo Arts Fest. Since then, Northeast Ohio Based artists have flocked to the box to fill it with a site specific, innovative installation. Phone Gallery has hosted Cleveland-famous artists that regularly show in venues like W.78th Street Studios and a retired Cleveland Institute of Art professor. The space has also hosted a talented high school art student from Collinwood, who had never shown his beautiful charcoal drawings to anyone before they went on display for the public to view 24/7 at Phone Gallery.
Phone Gallery has received praise and national press through "Creative Exchange" and in a 2014 speech by the Director of "ArtPlace America". Funding sources include The Kresge Foundation, Cuyahoga Arts and Culture and sales of screenprinted "Hello,Waterloo" greeting cards available for sale at Zygote Press.
This is a little art space with a big mission – to make art accessible and approachable for everyone. Each month, a new artist's work is installed in the gallery in advance of the first Friday "Walk All Over Waterloo" art walk. The gallery's goal is to alternate established local talent with emerging artists who may not have a portfolio of work to fill a "normal" room or building-sized space.
Through the end of July, check out Cleveland-based fiber artist Tina Dujmovic's silk and paper piece "Geometric Study 2".
Are you an artist?
Phone Gallery accepts applications for a 1-month solo exhibition on a rolling basis and is currently looking for artists to fill slots in Fall and Winter 2015. There is never a fee to apply or exhibit.
Max display size: 11" w x 22" h x 6" d. Visual 2-D and 3-D pieces are encouraged. An outlet internal to the box is available for those submissions requiring electricity.
APPLY HERE: http://www.mycreativecompass.org/Employment/Calls-for-Artists/Phone-Gallery-CALL-FOR-ARTISTS
Allison Lukacsy
Allison is a North Shore Collinwood resident, artist, neighborhood cheerleader and frequent contributor to the Collinwood Observer. She is the co-designer and curator of "Phone Gallery".
Read More on Art News
Volume 7, Issue 7, Posted 11:02 AM, 07.12.2015